Huali 25th Anniversary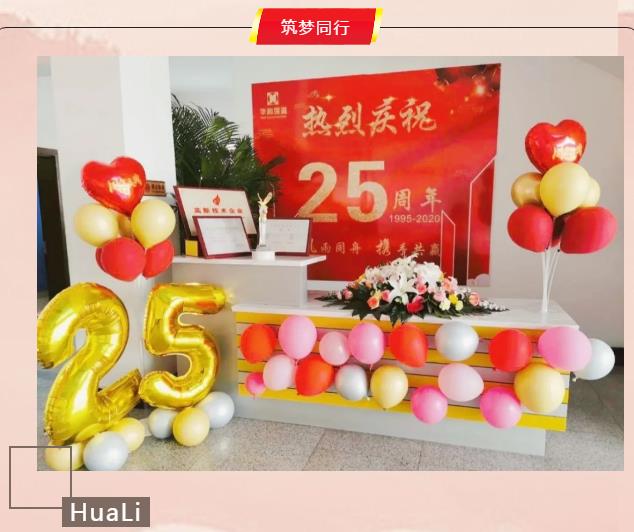 April 19, 1995>
Huali was established.
Huali focuses on the production and deep processing of thermal insulation materials. The products mainly include: rock wool, glass wool, ceramic wool, rubber-plastic sponge, composite aluminum board, composite rock wool board, PIR,PUR and other thermal insulation materials. Product quality And production management has passed CCS, ABS, DNV, NK, LR and other domestic and foreign ship inspection certifications. After years of development, We have established the main business segments of energy and chemical industry, building walls, ship outfitting, and foreign trade exports, and has gradually become the largest comprehensive thermal insulation building material manufacturer in North China.
In recent years, Huali has served as CNOOC Offshore Oil Engineering Company, CNOOC Oilfield Services Company, CNOOC Tianjin Branch; Shengli Oilfield, Dalian Shipyard, Shanhaiguan Shipyard, Tianjin Xingang Shipyard and other major shipyards in the Bohai Rim; Tianjin Eco-city, etc. Civil building wall insulation projects, Dagang Oilfield, Xinjiang Oilfield and major petrochemical projects, offshore Qingdao ICTHHYS project, YAMAL LNG project, Tianjin LNG project and many other projects provide a large number of thermal insulation materials, conventional thermal insulation construction, and deep cold thermal insulation construction supporting facilities service.
We have not only accumulated rich experience in the domestic insulation industry, but also established the company's comprehensive supporting leading position in the domestic insulation industry; we are also active Exploited overseas markets. The current business scope covers the United States, Canada, Australia, Japan, Singapore, India and other countries, especially in emerging markets such as India and Iran.
With 25 years of development, Huali's team has continued to grow, and groups of talents have enthusiastically joined the Huali family. With the far-sighted and pioneering leadership of leaders at all levels and departments, as well as the hard work of employees from all departments, all the staff of the company are closely united, around a main line, towards a dream, slowly approaching and growing slowly. Every Huali person is full of ambition and passion to display their talents and create value on this infinite platform.

Twenty-five years of dream building, let us meet together, looking forward to a more exciting transformation in the next 25 years! Go Huali! work hard together!